Services
Refractory demolitions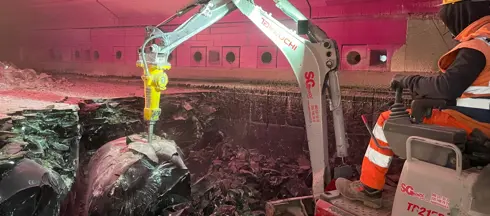 Deref is specialized in the demolition of refractory linings in industrial glass furnaces. It operates with its own qualified teams, in Italy and abroad, providing a complete service of demolition and management of the resulting refractories in accordance with relevant regulations.
Deref activity in the field of complex demolitions in the glass industry is based on a decades-long expertise.
Deref cooperates with Stara Glass S.p.A. for "Glass to glass" turn-key projects, as well as with the other companies of the Hydra Group.
---
Services
demolition of container/bottle glass furnaces
demolition of flat glass furnaces
demolition of fiberglass and glass wool furnaces
demolition of special glass furnaces
demolition of cement and lime furnaces
management of refractory waste from demolition